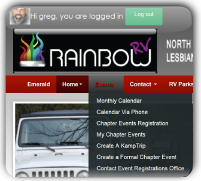 RainbowRV events are a major attraction to the club. Two categories of events are listed. KampTrips and Formal Events. KampTrips are member to member organized impromptu gatherings where one member post their plans to camp and welcome other members to join in. RainbowRV Formal Events are organized thru club management with payment made online. The club pays deposits, host budget and final site payment to the rv-park with the funds collected. Most formal events are member volunteer hosted. All formal events are club managed and organized Video tutorial on registration process
We list identical copies of both types of events Events >Monthly Calendar and Events >Calendar Via Phone . The calendar via phone is a list that is easier to scroll and search when using a small devise like a phone. A third link Events > Chapter Events Registration shows only a list of formal events open for online payment and registration. (formerly known as "chapter events").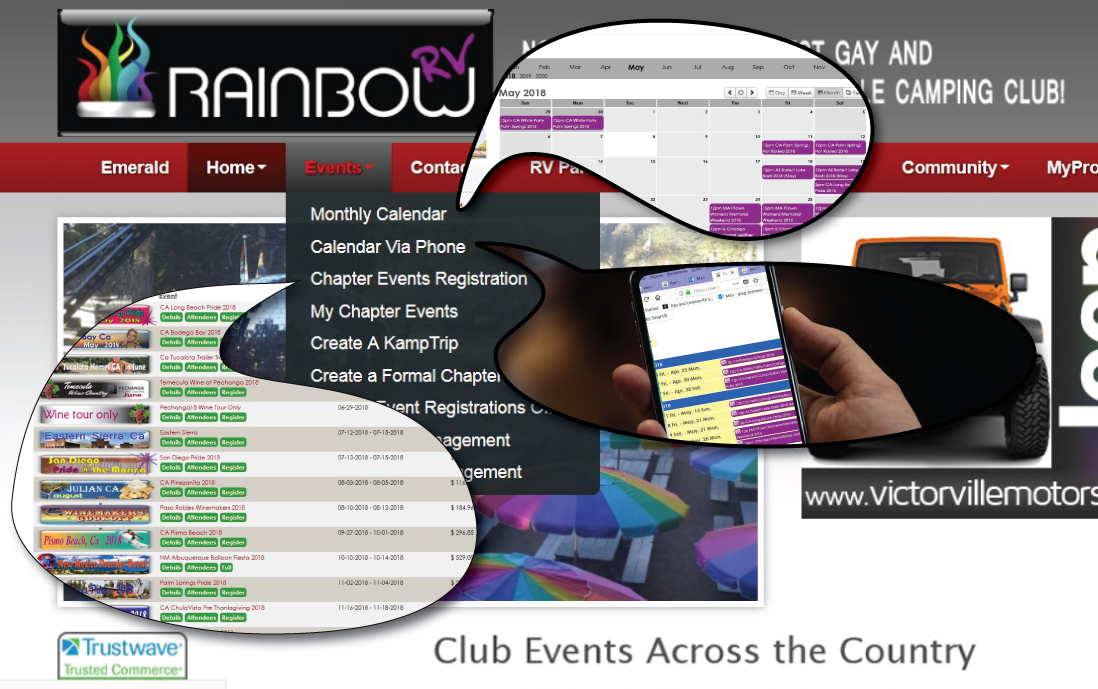 Three ways to find an event
Once you find an event follow the links in the description then register to attend.
Event registration is different with each type of event. KampTrip registration is merely a polite show of interest. We assembled tools that list members profiles on events they wish to attend. Please click the link to show your interest

and encourage other members to join the fun. KampTrip event attract from 8 to 120 members. The member host who set up the Kamptrip will have listed the details to register and pay the rv park for your site fees. there are no payment exchanged between members for hosting Kamptrips. Look for the blue respond button on the event image or a bit below when viewing from a phone or small screen. Formal event do not have a blue respond button.
Start up areas have access to Formal Events via the introductory subscription however Formal Event registration require a one year subscription. When the details show a orange Icon for Formal Events link

Click the link for payment details or click the Register Now Icon

to pay and be added to the event attendee list .