Tim and I had some time this last weekend to do some more work on the high heel shoe prop we built for last years Palm Springs pride parade. TonyP the Palm Springs event host secured a place for us in this years parade and we didnt want to show up without adding something to the mix or making some changes.
The steel frame of the shoe was not our intended final parade entry last year but the look worked as time ran out to cover the frame with some type of finished surface. We experimented with foam and fiberglass with poor results then decided to pull out the singer and review some quick Youtube How To Sew videos.
Tim found some silver sequence spandex fabric at a craft chain and traveled to three locations to collect enough material to complete the project. We needed to have the liner material and sequence-spandex sent out for treatment with fire retardant prior to assembly. I took advantage of our slow work schedule to make a pattern using cotton sheeting and paper for the heel while we waited for the fabric to be treated. We were surprised that the treatment took only two days and we were able to get right to cutting and sewing without any delay.
For the construction of the covers we used a machine to sew the black cotton blend liner then inserted 1/4 inch rods to stretch the cover into shape. The three sections of the shoe were then dressed with the wire enforced liner material then we hand stitched the sequence fabric to the liner.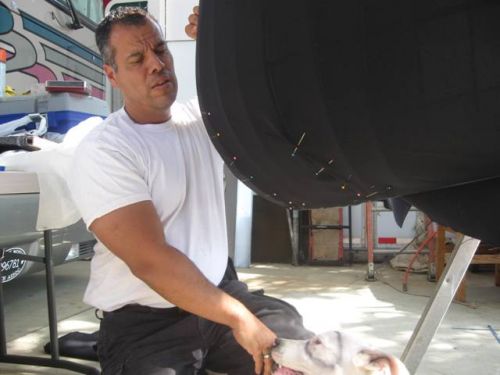 Tim pinning liner sections for machine sewing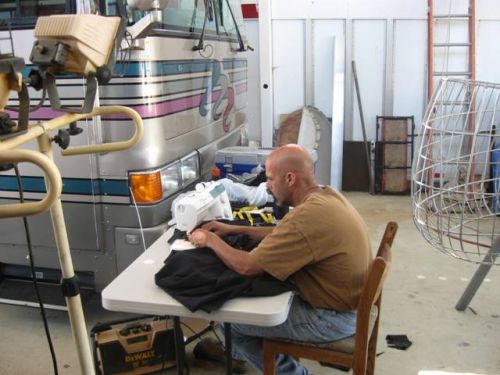 Me sewing the liner material fromTims pattern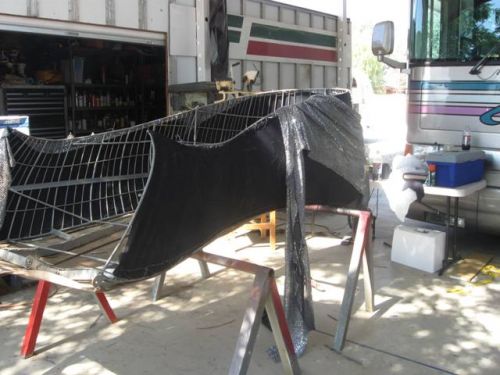 Liner installed and wire stretched
Some of the frame work shows through but I think we can soften it a bit with jute upholsters webbing prior to dressing the sections with the finished covers. Our next project is working on a trailer to put in the parade. It is our hope to soon use these props to promote the club and attract members from other cities and states.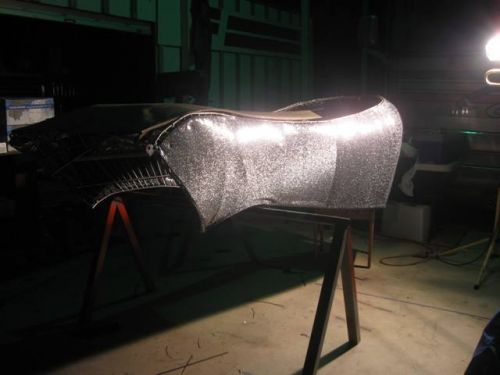 the long section hand stitched, all sections now done ad stripped
I hope everyone joins in and marches with us in the parade this year. It looks like we will have 150 members in Palm Springs. Everyone had a blast last year. I look forward to the parade and enjoy working with Tim on this project. Let me know what you think.
Greg