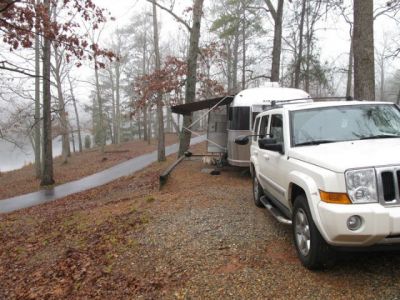 Even though the weather forecast never did look promising as we approached our first planned weekend trip with the trailer, we never considered cancelling or changing the schedule. We just decided to go with whatever conditions came along. After all, it is January, the trailer is winterized, and we just want to enjoy the new rig. We also need to have this trial run, not far from home, in order to be sure we have all the things we think we need for the next trip. Sooner or later, we'll be well equipped!
The trip from home included drizzle some of the way, gray skies, more and more precip as we neared Pine Mountain. So we had to realize we are going to set up camp in the rain! No bad attitude though, we are just going to play along --have a great weekend no matter what.
We did the best job of backing the rig ever. We have communication issues, and backing the trailer is one of those situations that can bring out conflict right quickly. We had our choice of nice sites, not many crazy folks out at the campground this weekend!
The camp area has really nice paved roads, mostly level sites, good access, and nice layout with "comfort" stations always near by. A nice convenience store, "The Trading Post" was open Friday evening --full of condiments, ice cream, fire wood, bug spray -- lots of stuff that is convenient when you have forgotten something.